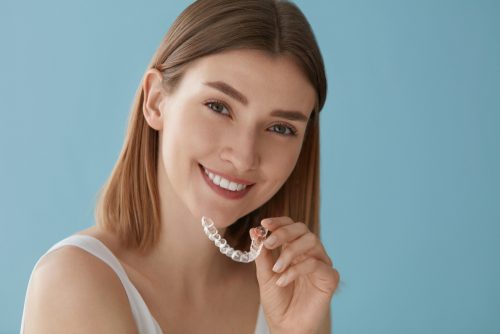 Clear Aligners Near Me, Vista CA
If you are searching for an alternative to braces that is removable, invisible, and is designed for your flexibility and convenience, clear aligners remain the ideal choice. At our practice, we offer the most effective clear aligners. Our clear aligners are custom-made for patients, depending on how severe the teeth misalignment. These clear aligners will help correct your teeth misalignment and help you achieve the lovely and inviting smile you always wanted.
What are Clear Aligners?
Clear Aligners are clear dental trays made of a unique material to align teeth, just like braces. Here are some benefits of clear aligners:
They are flexible
They help to maintain a proper diet easily
They don't involve any diet restrictions
The procedure is fast
Procedure for Clear Aligners
Our specialists begin the treatment by taking digital impressions to create clear aligners to fit correctly. We then take images for records, observe the changes, and duly decide the way forward. Our specialist then carries out an X-ray to see the inter-oral issues of the teeth. Our trusted team then scans the impression taken to get a copy of the teeth.
Furthermore, our experienced team will make 3D models of your teeth to ensure a perfect fit. This is done by utilizing a light-sensitive liquified resin that thickens when exposed to the laser. We prepare the thermoplastic models to give them an aligned and fixed position. To avoid any bad situation, it is crucial to check if the aligners have any issues.
In addition, our specialist ensures that you follow specific rules such as wearing the aligner 20 – 22 hours a day, moving to the next step after 2 weeks, ensuring that proper removal and fixing is performed, and making sure that attachments are in place and if they are not needed you should remove them. Lastly, cleaning the clear aligner is essential to maintaining good oral hygiene.
Contact Us Today
Contact us today at our practice to schedule an appointment. Our trusted experts will be happy to meet with you and discuss whether clear aligners are right for you.