Clear Correct Dentist in Vista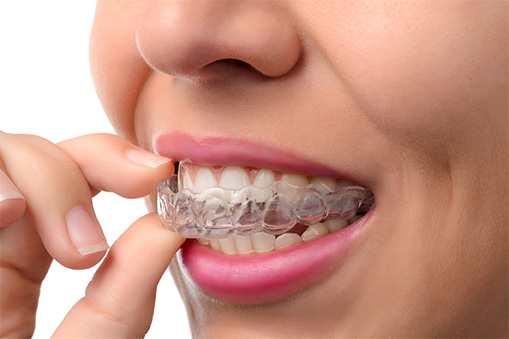 ClearCorrect is a simple and clear aligner system used to straighten teeth as an alternative to traditional braces. Also ClearCorrect can be considered an alternative to Invisalign. Brackets, Wires & Smiles is your premier certified ClearCorrect provider in Vista CA giving you the opportunity to show off your smile with confidence. ClearCorrect functions in a similar fashion to other clear aligner methods like Invisalign. ClearCorrect works by straightening the teeth using a series of clear, custom-made, removable aligners to gradually move the teeth in the required direction. The end result is a correctly straightened teeth and a bright smile that elicit a new, revitalized look. ClearCorrect are nearly invisible so that most people won't even notice you're in treatment. They're custom made for your teeth, which means that they fit you perfectly to provide more comfort than regular braces. You can also eat and clean your teeth normally because they are removable.
What You Need to Know
Dr. Ahmad, a ClearCorrect dentist, will evaluate your teeth and discuss any problems or goals you have to establish that ClearCorrect is the right treatment for you. He will then ask for impressions, photos, and x-rays of your teeth to be taken in order to be used in the manufacture of custom-made aligners that model your teeth. He then puts in the request for your custom-made aligners and sends it to a ClearCorrect laboratory for an exact 3-D model of your teeth to be created. You will be given a complete treatment plan showing the gradual realignment and repositioning of your teeth from current position to the required position. In addition, a computerized representation of your teeth before and after ClearCorrect treatment is created and made available for viewing. One you have begun ClearCorrect treatment set-up, you will receive an email about your treatment and respond to the email with your adjustments requests or your approvals of the treatment.
How ClearCorrect Works
ClearCorrect is an orthodontic alternative treatment that involves several stages of aligner therapy. In each stage, a series of aligners are given to be worn for a period of a few weeks. A time of control and flexibility is allowed between each stage. Designed in such a way that they are barely noticeable, ClearCorrect aligners are worn all the time except during brushing, flossing or when eating and drinking. Once the aligner sets are worn, the teeth will soon start gradually adjusting and aligning to the desired direction and position. You'll be required to come for periodic check-ups so that Dr. Ahmad can evaluate your progress and give you the next set of aligners. ClearCorrect treatment may continue for a period of one or two years, depending on the degree of misalignment or the specific condition you have.
Benefits provided by a ClearCorrect Dentist in Vista.
ClearCorrect are used to treat several orthodontic diseases that prevent people from achieving the ideal smile they deserve. It is available for both adult and teenagers. Clear Correct is used to treat:
Crooked or turned teeth
Crowded teeth
Overbites
Underbites
Spacing between teeth
Brackets, Wires & Smiles Vista, CA – We Help You Smile Better
Brackets, Wires & Smiles is a leading ClearCorrect provider in Vista, Carlsbad, Escondido, Oceanside, San Marcos, & North San Diego County, California (CA). Consult with us for the best ClearCorrect treatment that suits your needs. Contact us to make an appointment today.